Installing 802.11 A B G N AC + Bluetooth 4.0 Airport Card in Mac Pro 2008 (& 2006)
I recently purchased a BROADCOM BCM94360CD from OSXwifi.com, a site carrying Airport replacements for a variety of Macs with the latest and greatest in wifi. For 2008 Mac Pros, this means adding not only 802.11 AC, but Bluetooth 4.x for features like Airdrop and handoff/continuity support.
However, the instructions included were a bit thin so I decided I'd post a walk through for sanity's sake. You'll need a set of precision Phillips screwdrivers, I picked up a set years and years ago from Fred Meyer.
Step 1) Remove your 3rd Drive Bay
Open on the case and remove the 3rd drive bay, you may need to remove PCIe cards depending on if they're impeding you.
Step 2) Remove your Wifi Card (if it is present)
The Wifi card should be located need to the interior of the PCIe chamber. You'll need to pop off the antenna cables, it doesn't take much force. Unscrew the single screw.
Step 3) Remove the Bluetooth card
To unseat the factory bluetooth card, you'll need to unscrew two screws, and the antenna. I managed to strip on of the screws and gave up and removed it by brute force.
Step 4) Wiring it up

The instructions that came with my card are scant at best, and mislabeled for the antenna cables. There's an additional 12 pin DIN cable (with only two wires) that connects to the two pin DIN on the card, similar to a USB internal connector. I assume this is needed for other Mac models, but the Mac Pro 2008 doesn't have any matching pin outs and I didn't use it. You can safely ignore the cable.
After unsucessfully wiring it up, I found the reviews posted on OSXwifi card helpful. Special thanks to J3$T3R, whoever you are, you magnificent semi-anonymous bastard.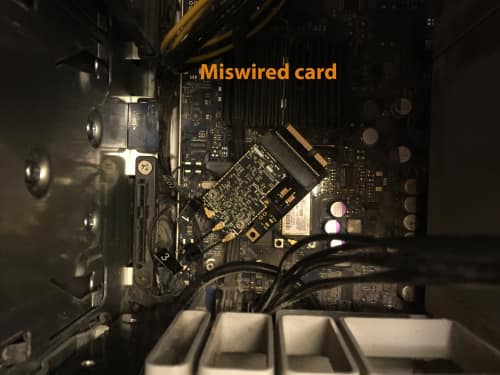 It took a little trial and error to get my wifi card working.
So here's the corrected version so you can avoid my trial and error.
Fair warning, it can be a bit of a pain to pop on the antenna cables, and the label flags can be jammed down. Its MUCH easier if you plug in the cables before you seat the card into the slot. You'll have potentially two hands to work with instead of one. I learned this the hard way the first time I install a wiifi card in a Mac Pro.
The card will require the screw to seat properly so try not to lose it (the card will function even if not buckled down).
Finish up shop and boot on up!
OS X 10.11 recognized my card out of the box. I tested Airdrop, bluetooth and the 5 GHz ac band on my wifi. Everything works like it should. Note: If handoff/continuity isn't working after installation, sign out of iCloud and sign back in.

OS X reports Bluetooth 4.4.2f1 16391, same as my MacBook Pro Retina
The software versions match later version MacBooks.
Happy Mac Pro-ing!
Holding both the 802.11 b/g/n + bluetooth cards for a Mac Pro.